TRUE Fitness serves many markets that all have different needs as far as their commercial fitness equipment demands and how much space is available. So what is the best equipment for your industry? Take a look at our helpful breakdown of all of TRUE's products and what we have come to know works best for your needs:
Health Clubs, Government, Military, Builders & Developers
These settings require equipment that can stand up to heavy, constant use from users, along with a variety of products offered and an array of features. For health clubs, the military, and developers, we recommend: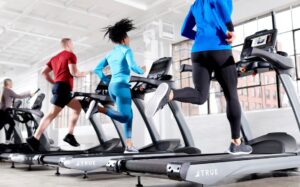 The CS900 line is our highest-end of commercial cardio products, which means they come with all the bells and whistles and will stand up the extreme everyday use. Our HIT Series offers the Traverse and Spectrum, which will provide your members with a unique workout experience, given their unique movements and workouts. FORCE and Paramount Strength are also recommended for health club settings.
Hospitality
Hospitality fitness centers typically do not have an abundance of space to offer, nor do the machines receive as much usage as health clubs. Therefore, TRUE recommends the following space-efficient equipment for hospitality settings:
Stretch
Paramount Strength
YMCAs, Police, Fire & Municipalities
YMCA and police and fire settings typically get about the same usage by its users as health clubs, but the square footage available is often far smaller. Therefore, we recommend not only the CS900 Line but also the CS650 treadmill as well. This treadmill requires less space and will allow more room for other pieces of equipment to be added. We recommend:
CS900 Line
HIT Series
FORCE Strength
Paramount Strength
Universities & Corporate Wellness
The university and corporate wellness markets typically have more space to allocate to fitness centers, and the equipment experiences heavy usage from students and employees who want to stay fit. For these types of settings we recommend:
CS900 Line
HIT Series
The TRUE Stretch
FORCE Strength
Paramount Strength
Multi-Housing, Country Clubs & Resorts
Apartment complex fitness centers often do not see as much usage compared to universities and health clubs. Country clubs and resorts also see their fair share of machine usage, but users still expect the machines to be top-notch. Regardless of how much usage they get, the machines still need to be commercial grade and built to last. For these settings we recommend:
CS400 Line
CS200 Line
PS100/PS900 Lines
The TRUE Stretch
HIT Series
FORCE Strength
Paramount Strength