If you want a fun yet challenging way to build both your muscular and cardiovascular endurance, an elliptical and especially our, Spectrum Cardio Workout, is a great choice. It exercises both the lower and upper body for increasing muscle tone, cardiovascular health, and burning calories.
Stride Out
Working out on the TRUE Spectrum elliptical helps stress your muscular endurance and cardiovascular system. During this workout, you will be using varied intensities and times which will provide an experience similar to High-Intensity Interval Training (HIIT) or more similarly to Intensity Level Interval Training (ILIT).
Your legs will be mostly be used the most in this workout, so don't forget to engage your arms too. The Spectrum is the only piece of equipment used in this workout, but you will still get in a good workout!
What To Expect During The Workout
It is always important to complete a proper warm-up before doing any type of intense workout. A sufficient workout should consist of some stretching or foam rolling. Then, once you are finished warming up you can begin the actual workout.
Follow along with the workout below, but remember these few tips:
At low intensity, you should be able to carry on a conversation.
At medium intensity, it should be hard for you to say a sentence.
At high intensity, you should only be able to say a word.
Take A Look At The TRUE Fitness Alpine Runner Incline Trainer Features
It is also important to adjust the workout to accommodate your physical ability:
For a Beginner user: Follow the workout as stated, and go a bit slower on your high-intensity sections.
For an Intermediate user: Follow the workout as stated.
For an Advanced user: Follow the workout as stated, but try not to rest during the whole circuit, then repeat the workout after 5 minutes of rest.
Using the Spectrum is easy: You can just hop on and start the workout! Once your feet are situated, place your hands on the grips that are most comfortable to you. To begin, slowly start pedaling in order to adjust the stride length. Then, once the stride length is adjusted, set the speed and level you will be using for the workout.
Remember to use your arms and legs simultaneously in order to make this a full-body workout.
The Exercise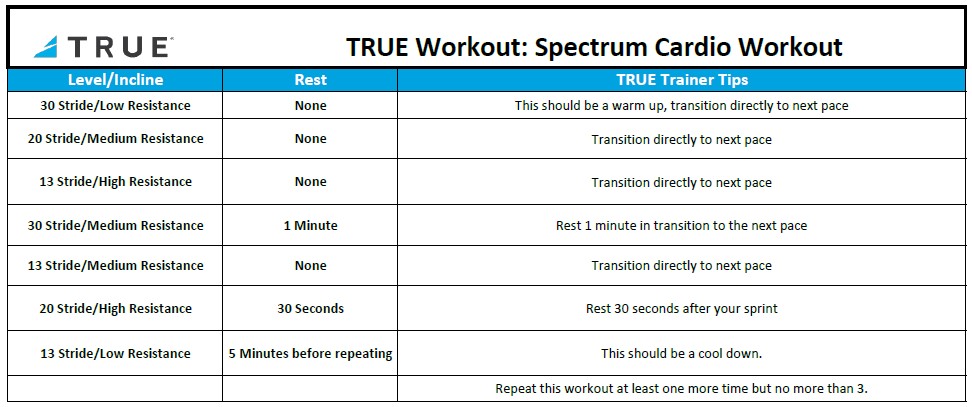 Tips to Remember Afterwards
Be sure to cool down and stretch after this workout. Due to how much you stressed your cardiovascular system, your body may feel slightly fatigued or sore, but that is normal. Be sure to log the levels and intensities you used and repeat this workout in a week or two to see how much you have improved.
OR