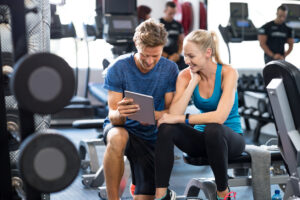 Sometimes, it's hard for gym owners to know if their customers are satisfied…or thinking about ending their memberships. Not everyone who uses your gym will feel comfortable enough to find an employee and express his or her concerns. Studies have shown that people are more vocal and honest when they know they will not be publically embarrassed or ignored. As such, surveys are a good way for customers to:
Voice their opinions about their experience at your fitness center
Share inspiring fitness stories
Provide feedback on commercial fitness equipment
This feedback will help you retain members at your gym, improve employee-member relationships, and raise your gym's public reputation.
Address Customer Comments & Concerns Swiftly
Customers appreciate fitness centers that listen to what they have to say and respond to their needs. When they have something to say, stop and take the time to listen and address whatever concerns they may have. Offer voluntary, anonymous surveys to your customers that provide them with a constructive outlet. Regardless if the feedback is good or bad, you need to know what your customers expect from your health club.
Encourage Testimonials to Promote Your Fitness Center
You can use gym surveys to promote your fitness center. Encourage testimonials from customers, whether seasoned or new, by letting them opt in for their survey to be used publically. A simple check box beside a short disclaimer will do the trick. This strategy will get them to share their stories and inspire others to come to your fitness center to work out. Testimonials are especially useful when they praise your fitness center for being able to cater to a need a customer could not find elsewhere.
Gather Important Equipment Feedback
Knowing what pieces of equipment need to be replaced or serviced is vital to customer safety and satisfaction. Customers are the ones using the equipment each and every day. They are the best source of information about what equipment
Isn't working correctly
They prefer to use over others
They would like to have that is currently unavailable