TRUE Fitness has been in the fitness industry for 40 years. We have the experience to understand the exclusivity of each client's needs and are committed to providing commercial exercise equipment for the dedicated men and women serving this country. TRUE Fitness supports the Military and Government.
We pride ourselves on exceptional customer service and administering proper care and guidance on our commercial equipment for your facility. The support we give to the client is not something we take lightly. As there are important decisions to be made, TRUE is there every step of the way through designing the facility layout to complete preventative maintenance measures where the life of the equipment is prolonged.
Premium Equipment Built To Last
Being a manufacturer of premium commercial fitness equipment, TRUE builds quality and durable pieces meant to stand the test of time. We create performance-driven machinery with the Military and Government market in mind giving the ultimate performance needed for servicemen and women to take on their duties. TRUE will furnish your facility with a wide range of options for users to choose from that fit their specific needs.
Cardio Equipment
Stryker Slat Treadmill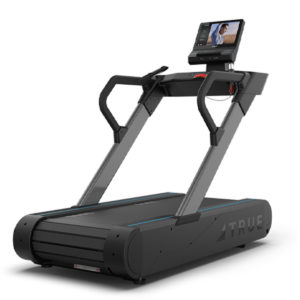 The Stryker Slat Treadmill provides your facility with a high-quality experience and reliable performance. The Stryker features a running surface of vulcanized rubber slats that are more durable and require less maintenance than the conventional conveyor belt system of traditional treadmills. These individual shock-absorbing slats provide a running surface closer to the natural feel of outdoor running for those looking for a more realistic training experience.
Choose from an array of console options to offer the technology and features that best fit your users' needs.
Alpine Runner Treadmill
We understand workouts for this market need to be challenging; however, the programs and high-intensity training designed for the Alpine are no exception. With a 30% incline and -3% decline, the Alpine Runner is versatile and caters to all fitness levels. It aids users in achieving their most demanding fitness goals.
900 Upright Bike
The 900 Upright Bike isn't only one of the sleekest bikes in the industry but is also one of the most durable. Built to withstand the most intense workouts, the 900 Upright Bike features a 3-piece forged steel crank system and 30 resistance levels to take your users' training sessions to new heights.
Strength
XFW-8300 Dual Sided Half Rack
The XFW-8300 is perfect for any strength training session. This rack provides multiple options of training tools that fit any training program. The Dual-Sided Half Rack features 19 adjustable points with bar catches and rails along with optional plate storage, chin bar, band pegs, core trainer, dip station, and center rack catch rails.
XFW-4700 Dumbbell Rack
The XFW-4700 Dumbbell Rack has multiple size options ranging from a 6-pair up to a 30-pair rack. Choose the size that will fit your facility and users' needs best. It is sure to be a favored piece.
Group Training
Atlas HD
The Atlas HD is our most sizable freestanding Group Training System that fulfills a wide range of training needs. With this fully customizable system, you have plenty of training tools, storage systems, and accessories to decide upon, making this the perfect piece of equipment for performing any group workout.
Why TRUE
We have become the oldest family-owned and operated company in our industry thanks to our focus on designing, building, and servicing excellent products for you, not our bottom line. Our customer-centric approach has allowed us to continue to produce high-quality equipment. We go to great lengths to deliver exceptional personal service and make you feel like part of the TRUE family. You can count on us to make owning and maintaining your fitness equipment easy.
Bring TRUE to your facility and contact us today to learn how we commit to helping you. You can also check out the TRUE residential website for residential commercial equipment.