Even in the university setting, students should still take fitness classes to remain healthy and increase their well-being. However, a large part of actually getting students to take part in fitness is providing classes they love. Check out these popular fitness classes you should offer at your university to encourage students to exercise and have fun:
Ultimate Frisbee: Let Loose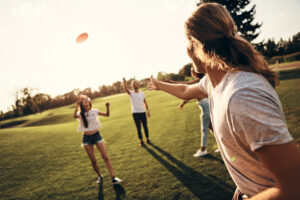 Frisbee has long been a staple at most college quads. Now, universities let their students feel free and get a full body workout with Ultimate Frisbee classes. You can provide this non-contact sport that encourages players to work together. Because there are no referees, players are "morally bound to abide by the rules," according to USA Ultimate, the national governing body for Ultimate Frisbee. Because there is a lot of running and agility involved in this sport, Ultimate Frisbee makes for a great cardio workout. It can also help increase a student's agility and strength since it also involves a lot of throws, quick turns, and jumps.
Cardio Kickboxing: Toughen Up
Cardio kickboxing combines martial arts with a cardio workout to help improve flexibility and stamina while staving off boredom. Each class starts with a warm-up and ends with a cool-down with stretching, which helps reduce the chances of injury. Cardio kickboxing is non-contact, which means there will be little chance of someone accidentally getting hit. Because the sport includes both upper and lower body movements, students can work out the whole body.
Zumba: Dance Away
This popular fitness class has choreographed dance moves that allow students let loose while getting in an interval workout. Zumba classes are an hour long and are interspersed with bursts of intense workouts and rest periods. This method helps burn more calories without the need for special equipment. Also, Zumba can also incorporate weights to get in some strength training.
Strength Training: Bulk Up
Strength training by lifting free weights and using strength equipment is a great way for students to improve their overall quality of life. With strength training, students can:
Improve their bone density, which can help stave off bone loss later in life.
Promote lean muscle for a healthy body weight
Decrease the risk of injury by strengthening connective tissues and muscles
Burn more calories throughout the day, since muscle takes more effort for the body to maintain than fat.
Just be sure you are not discriminating between men and women when it comes to who uses what strength equipment. Men and women can easily train the same way, so be sure to provide the same equipment for both groups.