Stair climbers, such as the Palisade Climber, and step mills have become increasingly popular in 2022 as more people begin to seek out shorter, more challenging workouts. Climbers have quickly become one of the most-used cardio machines after treadmills at gyms across North America – and for good reasons! Climbers are very effective for torching calories, improving cardiovascular health, and strengthening multiple muscle groups. Actively engage your quads, hamstrings, glutes, core, and calves with each step!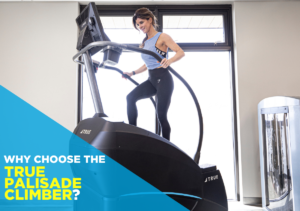 We introduced the Palisade Climber in 2019, and it quickly became a fan favorite in gyms worldwide. With exceptional craftsmanship, a sleek exterior, and simplistic serviceability, TRUE's Palisade Climber has been crafted as the perfect cardio solution for health clubs.
The Palisade Climber boasts one of the deepest and most robust steps in the industry. Proven to be 10x stronger than the strongest competitor's step, we manufactured this step to reduce stress on the step rods and bearings for increased durability. The extended step length allows for better step mechanics and eliminates pinching your toes between the steps – a common problem in traditional step mills.
With a minimum start-up weight of 70lbs, the Palisade Climber can accommodate a broader range of users. These features allow every exerciser to feel comfortable during their training sessions and confident with every step they take.

Multiple console options provide customizable features, technology, and asset management capabilities for enhanced user engagement that will keep your members excited to keep climbing. With TRUE's Envision and Emerge consoles, the Palisade Climber offers superior high-intensity interval training (HIIT) workouts without the harsh impact of running.
Safety
We engineered the TRUE Palisade to meet all North American and European safety standards ensuring optimal safety for your facility and members. The TRUE Palisade offers premier safety features. For the most secure stair-climbing experience on the market, our suite of safeguards includes a Dual-Brake system, infrared sensors, and step-up assistance.
The Dual-Brake system provides the highest level of safety. The dynamic brake regulates the speed and prevents the machine from over-speeding, while the mechanical brake locks steps while not in use.
Integrated infrared sensors on the bottom of the machine will stop and lock stairs if a person or object is detected. A photo-interrupt safety sensor is an available feature that will lock the mechanical brake if any unsuspecting item breaks the plane on the sensor.
The TRUE Palisade Climber also offers step-up assistance, which includes rear steps, integrated side rails, and a dipping handrail, ensuring it tailors to users of all fitness levels.
Serviceability
Our Palisade Climber is a simplistic design that was designed with users, club owners, and service technicians in mind to fill the gap that current climbers lack, especially in serviceability. It has been said it is a design that is inviting, offers easy navigation, and offers the deepest steps possible.
Palisade's fixed transportation wheels allow the machine to be easily moved, without tools, for quicker service access. The removable front panel allows easier access to the electrical, drive, and resistance systems for maintenance or service.
This machine will take your users to new heights with a variety of premium features that keep them returning to the Palisade for every cardio session.
Ready to bring the Palisade Climber or another other TRUE fitness equipment to your club or facility? Contact your TRUE Fitness rep today!