Not only is it important for your members to make gains, but it's also imperative for your facility. The type of gains we're talking about may not be the ones that first come to mind which could include substantial buildings and strong team members… no– we're thinking about solid equipment choices. Specifically, equipment that's user/biomechanically friendly, minimal service required and built with modern designs to suit your facility and exercisers' needs.
Let us introduce you to the TRUE Palladium Series Selectorized Strength line. A vision into the future,
premium craftsmanship meets advanced biomechanics. Advanced functionality, comfortable touchpoints, and precise ergonomics are packed into a modern design. Set your facility apart and provide users with an intuitive strength-training experience with the Palladium Series.
Always Have Your Members In Mind When Envisioning Exercise Equipment
When envisioning commercial equipment for your facility, you always have your members in mind. Will they use it? Will it feel good for them to use? Because at the end of the day, equipment is a primary reason any gym has members and retains them. Don't worry, these questions were in our minds when designing and building these pieces. Our TRUE Palladium Series machines have precise biomechanics and convenient touch points, so your members target the appropriate muscles, helping to avert potential injuries.
For example, the Overhead Pivot Design allows the handles to travel in a slight natural upward arc for maximum pectoral recruitment on the Palladium Chest Press. Think of a barbell bench press path but in a controlled machine. Accurate biomechanics keep your members happy and moving in the right direction towards their goals.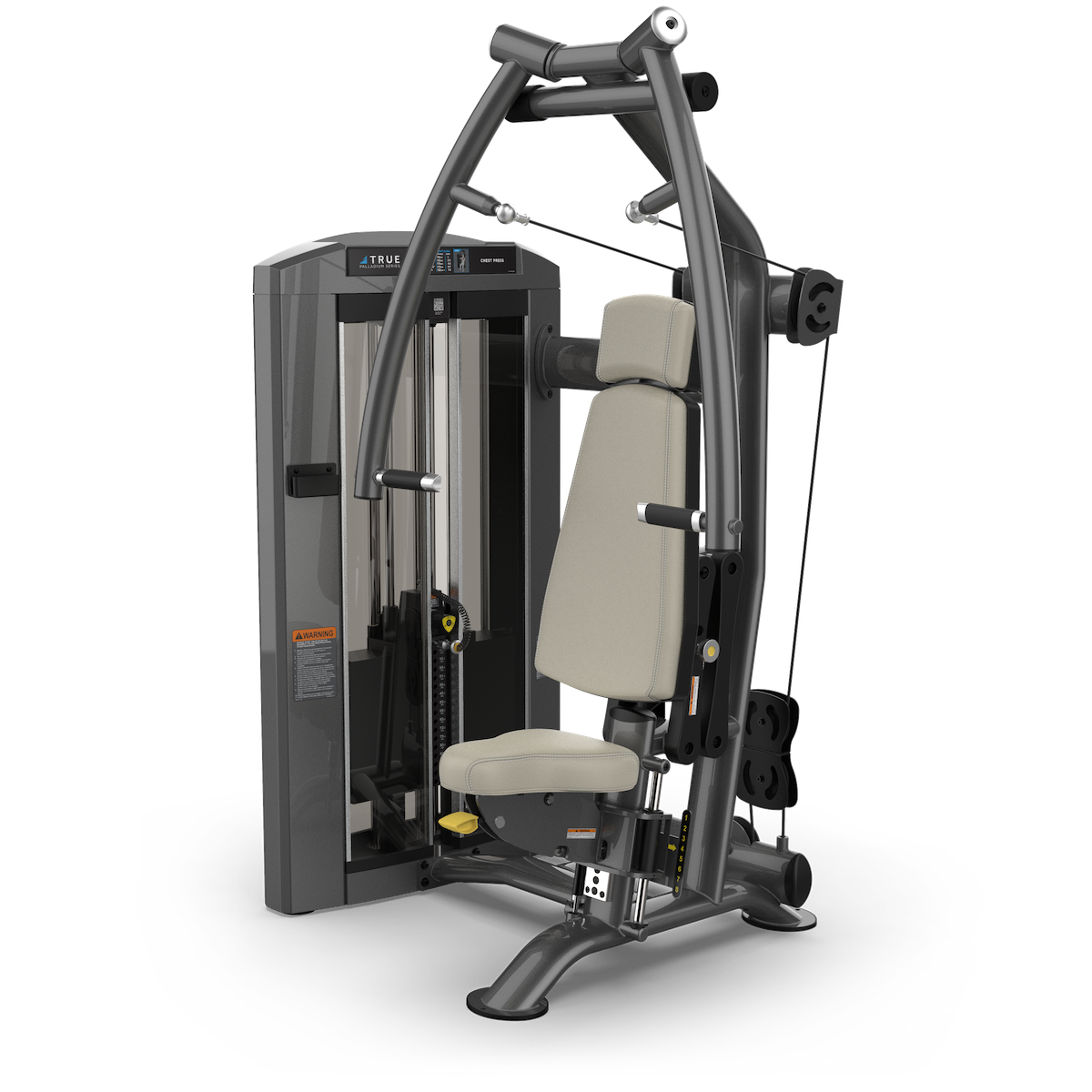 With all TRUE commercial equipment, serviceability is always minimal. Still, the product's design is easy to service if needed, allowing minimal downtime for any equipment on the gym floor. When building these pieces, they were never intended to overcomplicate usage for the exerciser or the facility owner with unorganized instructions.
Modernized Design Of The Palladium Series Selectorized Strength
The modernized design of the Palladium Series will meet your facility's standards. With any of these pieces, custom shrouds or custom upholstery fabrics are available to match your company brand, making these pieces fit in even more while capitalizing on your branding goals. The overall design of the equipment is sleek, durable, and clean, so you will not have to worry about replacing your facility's pieces to stay current with the changing times. One key feature of our pieces is the seat adjustment guide.
If you are a level 3 seat height on the chest press, you will be a level 3 seat height on the shoulder press; no more wasting time to find that perfect fit on each machine. You can even hear it from the YMCA Health and Wellness Director, Judy Couillard, "The number one reason I choose Palladium equipment over all the other manufactures, is that the seat settings was one setting for every piece of machine, I can't tell you how much time that saves when setting up equipment and showing members how to use the equipment by just having that one setting."
Strengthening your members will also improve your facility by providing equipment that fits them comfortably through design, precise biomechanics, and high-end serviceability. The TRUE Palladium Series Selectorized Strength line is ready to set your facility apart.