In July, the American College of Cardiology (ACC) and the American Heart Association (AHA) released new guidelines for defining and managing hypertension, or high blood pressure.
As a gym owner or manager with a team of personal trainers and group fitness instructors at your fitness facility, it is likely you will encounter a lot of clients with blood pressure issues – especially those diagnosed with hypertension. Hypertensive clients are fairly common for any type of facility whether it be a corporate gym, community health and wellness centers, and even sport performance centers. According to the National Council on Strength & Fitness, there are actually a few different stages of hypertension and nearly 1 in every 3 individuals in the United States is considered hypertensive.
Hypertension = High Blood Pressure
According to a report by the American Council on Exercise, anyone with a blood pressure greater than 130/80 mmHg, roughly 103 million people, is considered to have hypertension.
As a gym owner or manager, even as a personal trainer, this means you should be familiar with the changes and be able to apply it to your facility and members. It is important that all health coaches and exercise professionals because now an additional 14% of Americans will find themselves having hypertension due to the new guidelines. A good way to do this would be to host a faculty meeting in the gym to go over with workers and trainers the new guidelines so they are prepared on how to best handle the members with hypertension.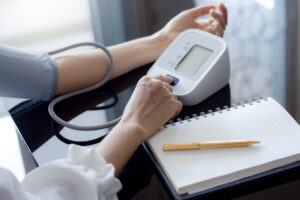 What To Expect From Members & Clients
If one of your gym members or personal training clients have now fallen into the threshold for having hypertension, it is likely their viewpoint on their fitness lifestyle will change and they will rely on you to help them (in addition to their regular medical doctor). As a professional in the fitness industry, you should also be sure that your members understand that hypertension is a big deal and not to ignore it.
With the new hypertension guidelines, there will be a lot of changes that occur. For example, membership may increase. You may see more new members joining your gym and signing up for group fitness classes because it is recommended by their doctor to focus on their exercise routine. Individuals who now may be considered "hypertensive" will likely be changing their workout habits in an effort to help battle high blood pressure. Another example is that personal trainers may need to adapt and alter their client's workouts. Personal trainers should consider the special dynamics of the hypertensive condition and the medications used to control it to implement a safe and effective training program.
Be Aware & Ready To Make Changes
While the effects of these new high blood pressure guidelines most likely will not be noticed right away, it is better to be proactive than reactive. It is essential that health professionals follow the guidance of each client or member's regular doctor when deciding to make changes to an exercise routine. Also understand that sometimes a new workout program may not be effective or enough to manage hypertension.
These new guidelines should push your gym and personal trainers to be more aware and in-tune with client and member needs. A new workout routine can address hypertension through lifestyle and dietary modifications, increased physical activity, aerobic exercise, and prescribed medication
Whether it be providing fitness equipment that tracks heart-rate or having more one-on-one training sessions, being aware of members' needs will help them live a healthier lifestyle and combat their high-blood pressure.