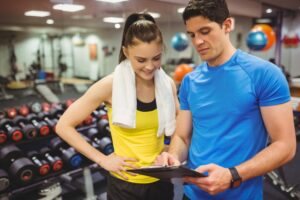 During the hot summer months, pool memberships at community centers tend to be at their highest. These pool memberships are a great opportunity to show off the other services your community center offers and convert customers into year-round members. In order to get these conversions, you will need to emphasize and improve upon your customer service and promotional tactics.
Use Savvy Promotional Techniques
It is also a good idea to promote services and special features within your community center.
Publicity
Make sure year-round opportunities are well known to your seasonal members. Some basic promotional techniques include:
Utilizing a loudspeaker to announce special features and promotions for other areas of the community center to attract customers to a different area
Sending out monthly newsletters (email and/or snail mail) that talk about the next season's or year-round events
Instructors & Camp Counselors
Children and adults who are participating in swimming classes or camp activities often form bonds with their instructors or counselors. Consider hiring these employees on a year-round basis rather than only in the summer. A multi-talented instructor may be able to teach swimming in the summer and coach a community basketball team in the winter. A counselor may be interested in creating an after-school program for kids. Ask your employees to reach out to students and parents with information on future classes later in the year.
Tours
When new members sign up, have an employee provide them with a tour of the entire facility. Not only does a tour benefit the customer by showing them all you have to offer, but it gives you a chance to highlight special features and offers they may not have otherwise known about.
Improve Your Customer Service
In order to ensure your members are fully satisfied at all times, make sure you have customer service staff available during your hours of operation. It may also be beneficial to have a bell at the front desk for when staff members have to step away so they can provide prompt service should they be needed. Along with providing front desk staff that is readily available, it is also wise to provide attendants in each area of the community center such as:
Pool
Fitness center
Gymnasium
Having staff available in all areas of the center will provide additional safety for all members and provide customers with an easily accessible resource for questions or concerns. Strongly encourage all employees to greet every member as they walk in or pass by. A friendly greeting will create a comfortable environment for members in which they will want to return.