Stronger leg muscles mean a stronger, more balanced body. Once you have built up your leg strength, it is important that you maintain it so you don't lose all of the progress made.
Exercise Goals
The Lower Body Leg Sculptor workout will hit every muscle group in the lower body and even a few in the upper body. You will gain strength from the first two movements performed and the next six movements will work on your conditioning, as well as muscular endurance.
Tips Before the Workout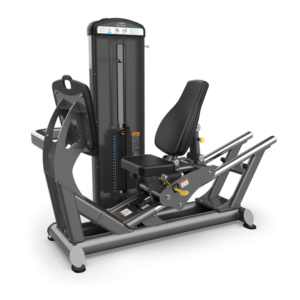 First of all, make sure you complete a proper warmup before diving into this workout, which may consist of some cardio, stretching, or foam rolling. By warming up, you are getting your body ready for exercise and lowering the risk of injury.
When you get to the first machine, be sure to allow yourself about 3-4 warmup sets. These sets should be gradually increased to help you find the weight you will use for the work sets. For example, on the Leg Press, your warmup sets could be:
40lbs x6
70lbsx6
90lbsx6
100lbsx6
This example set is considered challenging, so it would also be your first of 3 work sets.
To adjust this workout for your skill level, there are a few things to consider:
Beginner: Use a weight that is moderately challenging but enables you to keep a perfect form with every rep.
Intermediate: Use a weight that is challenging to complete all your sets.
Advanced: Use a weight that is very challenging to complete the first set, rest around 3-4 minutes and complete it again at the same weight. This will help maximize strength adaptations.
Proper Forms To Remember For This Workout
No matter if you are using your own bodyweight or a machine, remember to maintain proper form when performing this workout:
The Exercise

Final Thoughts
Always focus on your form with each movement and rep. Keeping correct form is very important on lower body movements, as the lack of a proper form could lead to knee or back injuries. Make each sets are somewhat challenging, but not to the point where your form begins to fail. Log the weights used and simply repeat this workout in a week or so to see how much better you have gotten.
The 50-rep Burpee challenge in this workout is a great measure of your conditioning and strength gains combined. Legs tend to get more sore from workouts, so make sure you stay active, eat enough food, and rest enough. All these factors will help you recover faster.