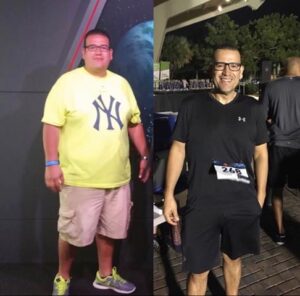 On October 23, 2017, Caesar F. felt like something wasn't quite right. He took a trip to his local Walmart and bought a scale. Weighing in at 301.5 pounds, Caesar knew he was ready for a complete lifestyle change. From that day forward, he embarked on his incredible weight loss journey.
For the first 16 months of his fitness journey, Caesar worked out on the same TRUE PS825 treadmill 6 days a week, at his Parkland, Florida clubhouse. It was his good luck charm. "I fell in love with the treadmill. I loved how the treadmill was tracking how many calories were burning off. That kept me going," said Caesar.
He used the TRUE treadmill because he truly appreciated the technology. Having the ability to track time, heart rate, calories, and speed were key to his workouts. Caesar took advantage of the pre-programmed workouts – there are 40 to choose from including hill training, distance endurance, weight loss, and heart rate control. Many runners also appreciate the HRC Heart Rate Control®, which allows users to lock into their targeted heart rate. Once a user selects their targeted heart rate, the TRUE treadmill will maintain the specified rate for the duration of the workout.
Even better, TRUE treadmills are equipped with patented low-impact Soft System® which offers the most orthopedically correct running surface available to runners! In addition, the TRUE PS825 offers a 15% incline, making it a prime treadmill for Caesar's training.
Caesar has completely changed his workouts with his favorite treadmill but understands that the journey is multi-faceted. When asked if he had any advice for others beginning their weight loss journey, he said "write down your calories and track how many calories you lost on the treadmill [or other cardio equipment you may use.] This will help you know how many calories to consume." In addition to his almost daily treadmill workouts, he began eating healthier. He now counts calories, ensures he eats breakfast (the most important meal of the day) and practices portion control, ensuring a healthy lifestyle balance.
Every journey is different and has its own story. Caesar was encouraged to keep going with the help of what he kindly refers to as his fan club. His fans who follow him on social media saw his results and continue to tell him that he is an inspiration. In turn, they are his inspiration and keep him going forward. To this day, Caesar meets fans in his community, and receives messages about his amazing transformation – all wanting to know what his secret has been!
Caesar's journey didn't end with his impressive 102-pound weight loss in just 12 months. He now works out 5 days a week. In addition, Caesar is training for the  New York City Marathon this November! While he enjoys the occasional outdoor run, he prefers using the TRUE treadmill indoors because it tracks his metrics, which have been monumental to his success.
Looking to make a change in your life? Consider signing up for a membership at your local gym and consult with a health professional to develop the best plan of action for your life!
We can't wait to hear about your TRUE Transformation!