The best in commercial functional training, the XFT 900 Functional Trainer provides dozens of upper and lower body exercises encompassed in an efficient footprint. 
Let's explore the functions and benefits of the XFT 900 Functional Trainer for your club or facility. 
Vertical Adjustment Columns
The XFT 900 Functional Trainer features two adjustable columns that rotate 360°, allowing for unrestricted movement in multiple planes. Additionally, the adjustable columns allow members to perform exercises in the unused space around the functional trainer to maximize the effic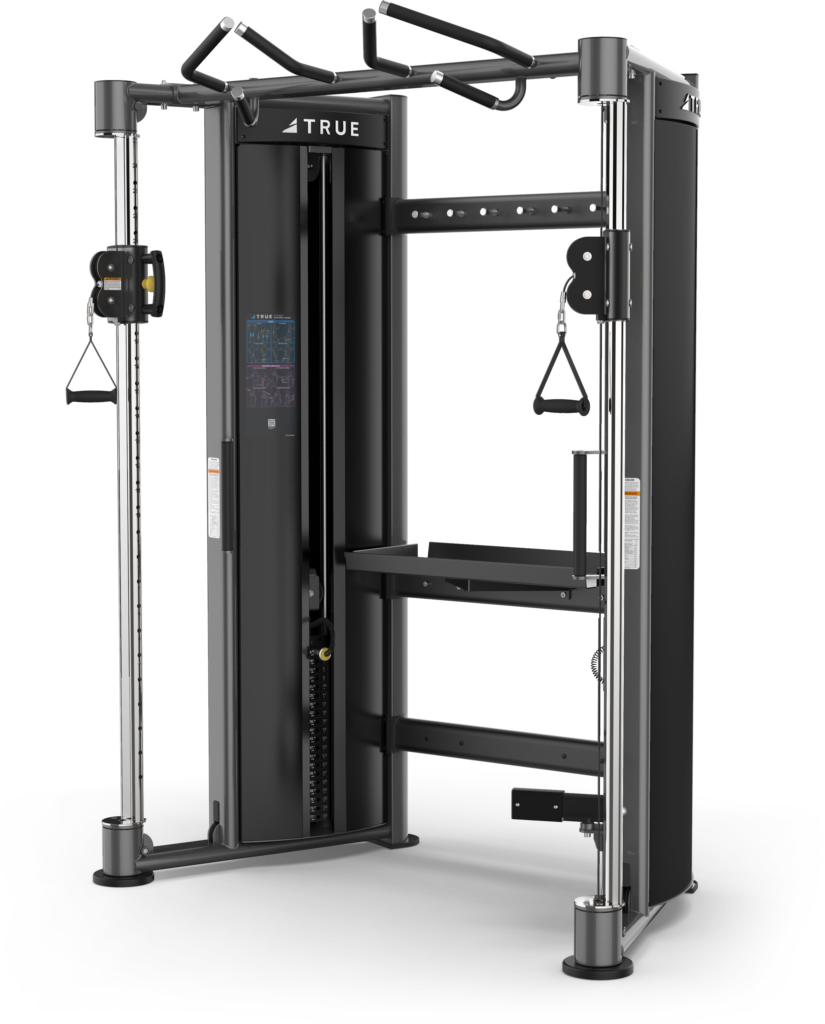 ient footprint, which is unique to the XFT 900.
In addition, the easy-to-use lightweight trolley can be adjusted with one hand to 25 clearly marked positions, making adjustments quick and easy for members of your club or facility. 
High Performing Weight Stacks
The smooth and quiet dual weight stacks provide members with a variety of resistance levels for two simultaneous users. 
With 310 pounds per side, the XFT 900 offers a prime opportunity for a variety of weighted workouts including: chest, shoulders, back, core, upper body, and lower body.
Multi-Position Chin Bar
The multiple-position chin bar accommodates an optional suspension bracket for suspension training accessories. Suspension training offers members a full body workout that builds strength and flexibility. 
Facility users can perform wide, neutral, close, and various staggered grip pull-ups, hanging leg raises, and core variations such as straight and bent knee raises, oblique knee raises, and twists. 
Fold-Down Platform
The conveniently located fold-down foot platform offers access to the chin bar and suspension bracket, and retracts
into the frame when not in use, eliminating the need for additional equipment.
Storage Hooks & Shelves 
Integrated storage hooks conveniently store a wide range of training accessories, such as resistance tubing, mini-bands, power bands, and jump ropes. 
Keep additional accessories accessible with the optional storage shelf. Medicine balls and kettlebells can be conveniently stashed away to keep your gym organized. 
Customizable Colors
The XFT 900 comes standard with a sleek charcoal powder coat finish, but is available with custom color options. Match your facility or school colors to create and XFT 900 unique to your brand!
Group Training System
The XFT 900 is the perfect addition to your group training equipment. TRUE's XFT 900 connects seamlessly with the Atlas and Atlas HD to create an all-in-one group training system. The Atlas features an additional accessory rack, step platform, dip station, dry erase board, and rope rack. 
The XFT900 Functional Trainer is also ideal for studios and facilities of any size. Boutique studios, personal training facilities, and hospitality facilities will love the smaller footprint encompassed in the stand-alone XFT 900 option. Trainers appreciate the 360° rotating columns and variety of workout options – prime for peak hours where more than one member needs to utilize the machine. Gym owners looking to maximize their space and equipment functionality will also find the XFT 900 to be the best addition to their space. 
Trainers and members are able to unlock their potential with all of the exercises encompassed in the XFT 900 Functional Trainer. Bring the best in functional training to your gym or facility with the XFT 900!