According to the IHRSA Fitness Training Report, "nearly half of Gen Z consumers use SGT (small group training)." Close to 4.8 million Gen Z consumers engage in SGT, meaning small group training can be the perfect addition to your club or facility.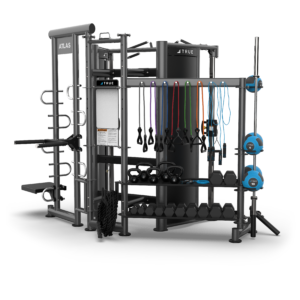 With the rise in popularity, it is more important than ever for gyms to capitalize on small group training by creating or expanding their group training offerings. We would like to introduce you to the Atlas Group Training System, the newest addition to TRUE's group training lineup. 
The TRUE Atlas and Atlas HD Group Training System are designed to enhance or launch your dynamic small group training programming with its range of features and benefits. 
Modern and Space Efficient
The modern Atlas Group Training System is designed with smooth, tubular steel. The exterior can be custom painted to match any club or facility's colors and theme. 
The space efficient design is evident in the approximately 10' x 6' deep design (which requires a minimum 6' perimeter in order to safely execute exercises.)  
Customizable Design 
TRUE's Atlas and Atlas HD is designed to be fully customizable with a range of configurations and accessories.
The Atlas is available with 2 storage and accessory rack options to accommodate any facility's needs. Standard storage trays and accessory racks with hangers create an added organization system to any club or facility.  Two storage options are available:
Atlas: Accessory Rack with Hangers, 2 Flat Trays, 5 Med Ball Rings
Atlas HD: 3 Flat Trays, 5 Med Ball Rings
Both models come standard with a step platform, dip station, dry erase board, and rope rack. 
In addition to the choice of storage, facilities can choose from a range of end frames to best fit their needs including:
The Atlas is also available with the choice of a second end frame add-on including: 
Suspension Bracket 
Heavy Bag 
Ropeflex®
Limitless Exercises 
Group trainers can implement traditional, corrective and functional exercises with the Atlas Functional trainer thanks to the available accessory packages and functional trainer options. 
The Atlas offers endless configuration and possibilities, motivating and inspiring members with high-energy and team centric 
training. Despite the compact footprint, the Atlas can house up to 12 stations – creating the perfect circuit training workout! 
In addition, TRUE offers sample programming to help clubs maximize their members' Atlas experience! 
The Atlas Group Training System meets and exceeds the performance, reliability, and budget demands of today's fitness facilities. 
Contact a TRUE sales representative today to learn more about how Atlas can add premium group training experiences to your club or facility!