Unlike a traditional gym where members may pay a fee for access to a wide range of fitness services and equipment, Studio Element Personal Training located in St. Louis, Missouri., is a fitness facility specializing in personal training. Jay Siefert, owner of Studio Element, has created a fitness facility where everyone who comes through the doors gets a personalized exercise experience.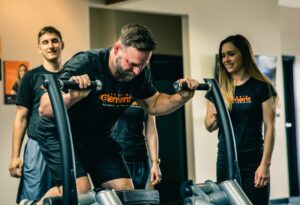 "I started Studio Element 11 years ago and we were just in a small location in the basement of a building about half the size of where we are at now," Siefert said. "We outgrew that space after 6 years and moved into a space about twice the size. Now, we have about 5000 square feet, and we have 10 trainers that work for us and we're looking to continue growth and help a lot more people out."
Walking into any type of fitness facility can be intimidating for anyone regardless of their fitness level or experience, which is why it was important to Siefert to have a place that was more private, more focused, and non-intimidating for clients. He says that the main goal of Studio Element and its team of trainers is to be the support system clients need to achieve success when it comes to their fitness and health goals.
Unique Training Experience With Professional, Certified Trainers
Besides focusing on only personal training, another thing that sets Studio Element apart from other fitness facilities in the surrounding area is that all of the personal trainers are not only certified, but have exercise science degrees. According to Siefert, this means that the clients that come in are working with someone who has proper knowledge of the body and how physical exercise affects it. He and his team of trainers are dedicated to their clients and always work to ensure that they continue to see consistent progress according to their individual goals as well as train properly to reduce and prevent injury.
Providing Premium, Innovated Fitness Equipment
Another way that Studio Element is staying unique is by offering clients and trainers the option to work out on premium and innovative fitness equipment.
TRUE Fitness recently provided Studio Element a TRUE Full Body Press to add to their training center. The Full Body Press, one of the many pieces in TRUE's strength portfolio, features Composite Motion Technology® which helps replace traditional weight lifting movements in one, smooth movement to work both the upper and lower body.
"The Full Body Press offers a dimension that we previously did not have in the studio. It's a smooth training tool that can be used to help train someone to do a squat and an overhead press, essentially replacing traditional weight-lifting movements in a much easier and non-intimidating way," Siefert said.
The Full Body Press engages a wide variety of muscle groups throughout the entire body. It safely and accurately targets areas such as the:
Chest
Shoulders
Triceps
Upper
Lower back
Core
Lats
Hips
Glutes
Quads
Calves
Hamstrings
For Siefert, his trainers, and their clients, the TRUE Full Body Press will be able to help clients work their whole body during their personal training session.
"My favorite features are the ease of getting into the piece, the comfort once you're in there and the smoothness of going through the motion," Siefert said, "I really like that you are able to get a full body workout. I mean, it is called a Full Body Press for a reason!"
Since the Full Body Press was installed, the feedback from the Studio Element staff and clients has been nothing but positive. The entire training team, including Siefert, has all started incorporating the machine into their workout routine and the clients are all enjoying it as well. The key thing that members and staff from Studio Element have noticed is that depending on how the Full Body Press is used, different people can feel its effects in different areas. Siefert and his trainers especially like this because it can accommodate their wide range of clients during their personal training sessions. He said the Full Body Press is versatile enough for their business because of its ability to emphasize different areas of the body, depending on the client's goals.
"I really see the TRUE Full Body Press becoming an important part of our line of equipment here. It has so many capabilities and I see us using it in intervals and for circuit training in combination with the other pieces of equipment here, the opportunities with it are endless!" Siefert said.