The Little Bit Foundation currently serves 14,000 students in 42 schools across the St. Louis region.
According to The Little Bit Foundation, "there were an estimated 210,000 food insecure people in St. Louis city and St. Louis county, with 31 census areas that qualified as food deserts. Many studies demonstrate that nutrition affects students' thinking skills, behavior, and health, all factors that impact academic performance." Poverty affects students in a myriad of ways and has a significant adverse effect on academic outcomes.
The Little Bit Foundation is committed to breaking down barriers to learning for under-resourced students through partnerships and programs that serve their basic needs and enrich them with new learning experiences. From food and warm coats to behavioral counseling and career discovery, [their] aim is to help students focus on their education and empower them to achieve their academic goals and dreams for the future!
TRUE Founder and CEO Frank Trulaske personally supports the mission of The Little Bit Foundation, and today we are taking you behind the scenes of the work they do and how you can get involved in supporting their mission. 
The Whole Child Approach
The Little Bit Foundation takes a whole child approach to poverty. Through their Whole Child Model, The Little Bit addresses needs such as health conditions, lack of winter clothing, proper hygiene, food insecurity, and insufficient reading materials at home. The Little Bit Foundation offers a number of programs to help support The Whole Child Approach. 
How To Support The Little Bit Foundation
Whether you are local to the Saint Louis area or not, there are many ways you can get involved and support The Little Bit Foundation. 
Give to The Little Bit Foundation 
A One-Time Or Monthly Gift To The Little Bit Foundation Can Significantly Impact The Students Served
$50 can provide a child with two new uniforms, pair of shoes, and undergarments.
$100 can provide two students with comprehensive health and wellness screenings, in addition to oral care kits.  
$150 feeds a family of four through their Feeding Hope program. 
$200 will provide one student with a full complement of Little Bit services for a school year.
$500 can provide an entire classroom of students with new coats. 
$1,000 purchases a book for every student in a whole school. 
Item Donations & Drives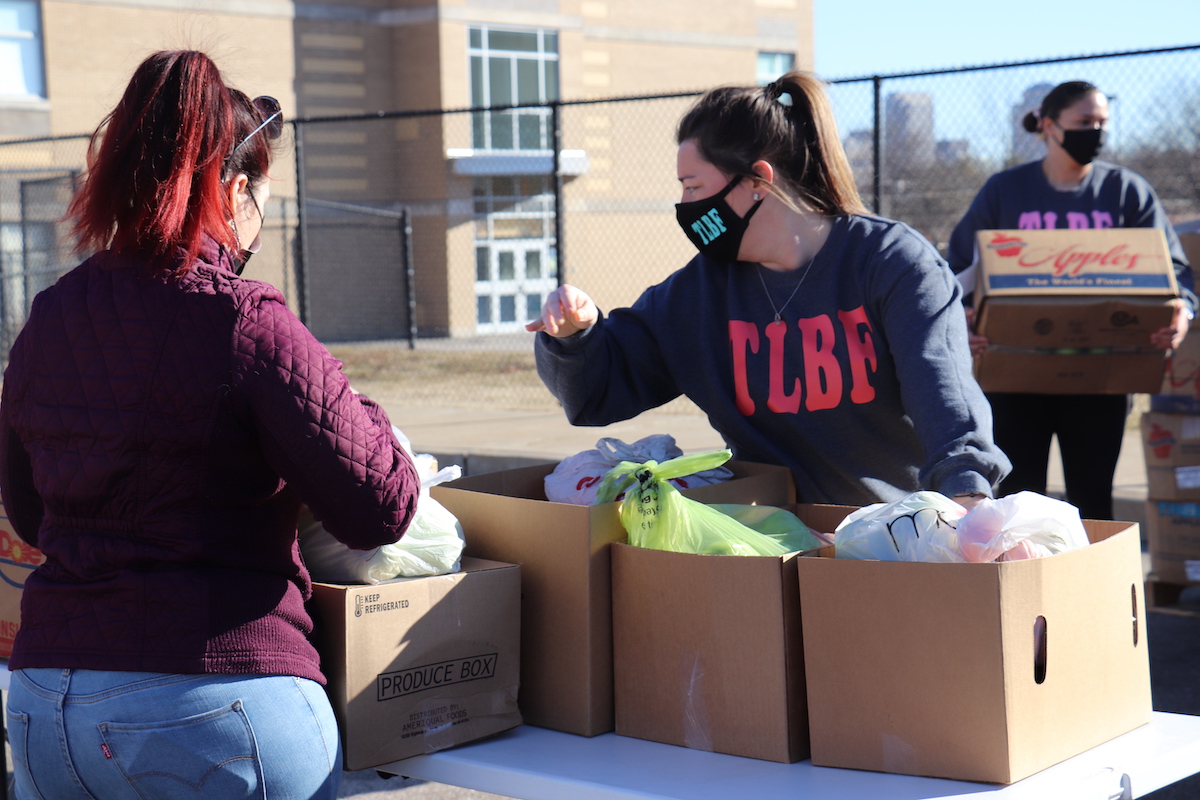 The Little Bit Foundation distributes tens of thousands of items from donations and drives. You can organize a drive with friends, coworkers, or students to significantly impact The Little Bit Foundations' students. The Little Bit Foundation offers a Drives ToolKit with signage, collection boxes, flyers, and tips. 
Donation Items Accepted Include: 
New – Packs of socks and underwear
New or Gently Used – Uniforms and clothing
Full and Travel Size Hygiene items 
New or Gently Used – Coats and jackets 
School supplies
New or Gently Used – Books
Volunteer
There are plenty of opportunities to volunteer with The Little Bit Foundation. Whether you want to work directly with students or support behind the scenes, everyone has a chance to volunteer. 
Opportunities To Volunteer Include: 
Warehouse Team: Work with a team to pull items for student orders, count, sort, and prep items for delivery, and assemble kits. 
Volunteer Groups: Volunteer groups and high school students in need of volunteer hours can work in the distribution center or through the organization of product drives.
School Representative: Join a four-person team that makes weekly visits to a Little Bit school to deliver needed items for individual students.
High School Mentor: Volunteer as an academic and professional mentor, serving a cohort of 6 to 8 high school students.
1-2-3 Read Book Fairs: Help set up and organize a book fair in each school The Little Bit serves. At the book fair, help children select reading level appropriate books, conduct needs assessments, and read to the students while they wait. 
Virtual Tutor: Work remotely with elementary students who need assistance with math and literacy skills.
STEM: Work with The Little Bit students and affiliate organizations to implement STEM events in the school. 
Driving Team: Help deliver food bags to schools for Sunny's Closet program.
Mobile Food Markets: Provide students with nutritional food at their residence.
Special Events: Join one of The Little Bit event committees to help secure sponsorships and in-kind donations, and increase participation at events. Several events include Music Trivia, Laura's Run 4 Kids, Big Fun, and Join the Journey Gala. 
Feeding Hope
You can support the Feeding Hope program through your financial contribution. This program brings food directly to the homes of the highest-risk families The Little Bit serves.
Shop And Support
You can support The Little Bit Foundation by shopping their branded apparel or purchasing items from their Amazon Wish List. In addition, you can support The Little Bit Foundation through Amazon Smiles. 
If you are local to Saint Louis or are across the world, you can help support The Little Bit Foundation and help under-resourced students succeed.