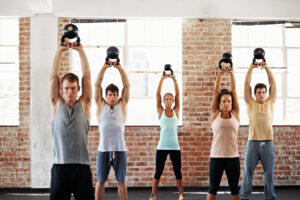 More and more, health clubs are offering customized fitness classes that cater to a certain skill level. Workout newbies can start in a "101" class while the experienced enthusiasts can take "Total Body Toning." But are customized classes right for your gym? Before your fitness center chooses to offer customers customized fitness classes based on skill, look at the pros and cons below. Being aware of what comes with the implementation of a new program will help you make an informed decision on what your gym is prepared to provide.
Who Are You Catering To?
Offering classes catered to a specific skill level will add to the variety of activities that your fitness center offers. However, the most successful health clubs create classes targeted at both novices and advanced members separately.
Novice Classes
Customized classes for customers new to the world of fitness will help them feel welcomed and teach them how to safely exercise. Offering beginner classes may even attract new members to your fitness center.
Advanced Classes
It's much more difficult to design an advanced class than a general beginners' class. Technique, preference, and other qualifiers can differ widely. Offer a few "limited time" classes for higher skill sets to see which ones work the best for your members. If the classes are popular, consider making them regularly available.
Can You Deliver?
When you advertise a customized class, members have certain expectations. It's important to meet your customer's needs with the correct equipment and staff.
Additional Equipment
Depending on what type of class and skill set you are going to incorporate into your fitness center, you may need additional equipment. Adding new commercial fitness equipment can be a big investment, but will eventually pay for itself if the class proves popular.
Additional Staff
When adding a class focused around a particular skill, you will need expert staff leading the class and instructing the participants. As a result, you may have to go outside of your current employees and bring in someone new to fulfill this need.
What Will You Charge?
Adding classes to your fitness center is a great way to increase overall revenue. Charging a small fee for each class or an additional upcharge on memberships for inclusion of the class can generate much more additional money each month.