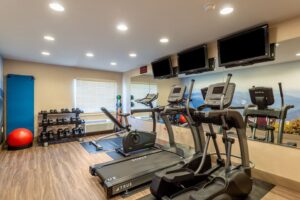 With wellness programs on the rise, many companies are adding an in-house fitness center to their offices. Before you decide to install one yourself, you must first decide if it is the right choice for your company.
Do Employees Want it?
In-house fitness centers are convenient for employees who regularly exercise, but may not be able to make it to the gym at the end of the day. But before you install a fitness center, make sure your employees want it to begin with. A survey is a good way ask your employees if they will use an in-house fitness center and what they expect from it if they do.
Improved Health
An in-house fitness center is a good way to help improve employee health. Exercising regularly has been proven to reduce the amount of times an individual gets sick throughout the year. Promoting wellness in the workplace will also reduce stress and other side effects of sedentary work.
Can You Afford It?
Constructing a brand new fitness center for your business doesn't come cheap. You must consider the cost of:
Construction
Purchasing equipment
Equipment delivery and installation
Also, you must think of future expenses like equipment maintenance and upgrades. Will you be able to afford these expenses?
Will It Be A Distraction?
When employees are using the fitness center, will it be a distraction to those trying to complete their work? Establish rules and hours of operation for the fitness center to avoid possible distractions or dedicate a sound-proof room to your new facility. Establishing etiquette guidelines such as how many times an employee may use the fitness center during the work day is very important. Time limits will ensure that the fitness center is not abused by employees neglecting their day-to-day duties.