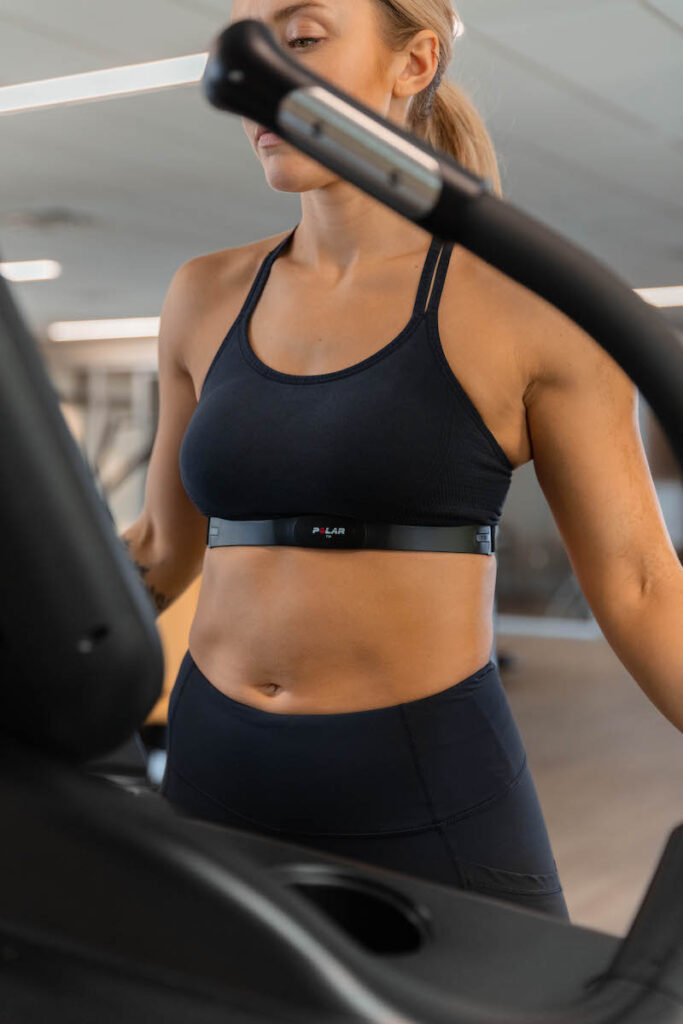 TRUE has a long-standing partnership with Polar®, a leader in heart rate technology and innovation for over 40 years. This technology allows members to take their training to the next level by effortlessly tracking heart rate.
With heart rate tracking, members can better understand how their heart rate works during their TRUE workouts and customize their training on any TRUE cardio product. Whether your members are training for their first race or are an experienced triathlete, we have everything they need for a TRUE cardio experience.
What is Heart Rate?
According to the American Heart Association, "heart rate, or pulse, is the number of times your heart beats per minute."
Resting Heart Rate
The American Heart Association defines resting heart rate as "the heart pumping the lowest amount of blood you need because you're not exercising. If you're sitting or lying and you're calm, relaxed and aren't ill, heart rate is normally between 60 (beats per minute) and 100 (beats per minute)."
How do you measure Heart Rate during cardio workouts?
Polar® offers two heart rate tracking options to help members understand how hard their body is working: optical heart rate monitor and chest strap with a heart rate sensor.
Optical Heart Rate Measurement
Optical heart rate measurements (OHR) uses photoplethysmography (PPG), which Polar® describes as "LED lights and a light detector to measure changes in the size of blood vessels and turns these measurements into heart rate readings." Optical Heart Rate Measurement is available in a sports watch or armband.
Chest Strap
Considered to be the gold standard in heart rate tracking, the Polar® chest strap measures the electrical activity of the heart. The sensor on the strap "turns the signals into heart rate data."
How can Heart Rate monitoring help athletes?
Tracking heart rate allows athletes to know how hard their body is working and provides the opportunity to adjust workout intensity as needed to train efficiently. Monitoring heart rate also allows members to see their improvements over time!
Maximum Heart Rate
Maximum heart rate can be used to see how hard an athlete's heart is beating during exercise. Mayo Clinic recommends "subtracting your age from 220. For example, if you're 45 years old, subtract 45 from 220 to get a maximum heart rate of 175. This is the average maximum number of times your heart should beat per minute during exercise."
Once a member understands how hard their heart is beating, they can then calculate their "desired target heart rate zone" — the level at which the heart is being exercised and conditioned but not overworked.
The American Heart Association generally recommends a target heart rate of:
Age

Target HR Zone

50-85%

Average Maximum Heart Rate

100%

20 Years

100-170 beats per minute (bpm)

200 bpm

30 Years

95-162 bpm

190 bpm

35 Years

93-157 bpm

185 bpm

40 Years

90-153 bpm

180 bpm

45 Years

88-149 bpm

175 bpm

50 Years

85-145 bpm

170 bpm

55 Years

83-140 bpm

165 bpm

60 Years

80-136 bpm

160 bpm

65 Years

78-132 bpm

155 bpm

70 Years

75-128 bpm

150 bpm
Moderate exercise intensity: 50% to about 70% of maximum heart rate
Vigorous exercise intensity: 70% to about 85% of maximum heart rate
What TRUE equipment is compatible with Heart Rate Monitoring?
Polar® heart rate monitoring is available on all TRUE cardio equipment, which pairs quickly for ease of user experience. At this time, Polar® watches are not currently compatible. 
Members can take advantage of TRUE's innovative heart rate workouts including HRC Heart Rate Control® (when applicable).
Bring the best in heart-pumping, premium cardio to your gym or facility with the help of one of our experienced reps! Ready to learn more about TRUE cardio and Polar®? Contact your TRUE sales rep today!