Providing your guests with a hotel gym is a wonderful amenity to offer. However if your hotel gym is not properly maintained, it could provide your guests with a negative impression of your hotel—regardless of whether or not they use it. A dirty, run-down hotel gym will not only put off guests and keep them from returning, but make them question what other parts of your hotel aren't taken care of.
Uphold Your Hotel's Aesthetic Appeal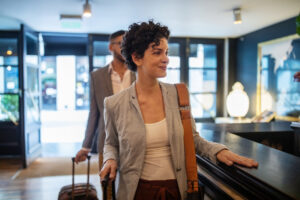 Don't let all the effort you put into keeping your hotel orderly go to waste with an unkempt gym. You should put equal effort into routinely maintaining the hotel gym itself. For instance, repaint the walls if chips, marks, or holes appear and replace flooring when it becomes worn. A gym that looks run down also looks dirty, even if it's cleaned regularly. A daily cleaning of the entire fitness center is essential as well to help prevent illness and smells. Cleaning includes:
Wiping down and sanitizing equipment
Mopping the floors
Removing dirty towels
You should keep sanitizing wipes in your hotel gym for guests to use to wipe down their machines with. A staff member should also come in regularly to wipe down equipment and check for cleanliness.
Maintain Equipment
Make sure your fitness facility is properly maintained at all times. Maintenance includes caring for all pieces of fitness equipment as well maintaining the gym itself. When maintaining equipment, follow the manufacturer's suggested routine maintenance and be sure to repair any malfunctioning equipment as quickly as possible.
Launder Gym Towels Regularly & Separately
It is important that laundry services are available for frequent use regarding fitness room towels. Dirty towels harbor bacteria that can cause skin infections like MRSA, so it's important to launder them regularly and separately from those used in guest rooms. Have laundry bins readily available for guests to put their used towels in and include rules about what towels are and are not allowed in the gym (e.g. "don't bring in bath towels from guest rooms"). A staff member should routinely check the facility throughout the day to replenish clean towels and remove the dirty ones.
Have Proper Ventilation
When providing your guests with an on-site hotel gym, it is essential that you also provide proper ventilation, as no one wants to exercise in a smelly gym. Good ventilation will keep the air clean and comfortable versus stinky and humid from user perspiration. It will also prevent your hotel as a whole from smelling.