The FUSE-0400 Inner/Outer Thigh Machine is the 13th unit in the FUSE XL Strength Line: A modern and comprehensive 16-piece strength conditioning system designed to meet the space, budget, and performance demands of today's commercial fitness facilities.
The FUSE XL Strength Line is a part of the TRUE Paramount Series.
Multi-Purpose, Cost-Efficient Machine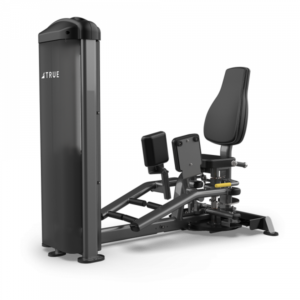 The Inner/Outer Thigh machine is a space and cost-efficient addition to the FUSE XL line serving a dual function to exercise both adductor and abductor muscles. The leg pads transition easily to switch movements between inner and outer thigh and are contoured for comfort.
Fifteen adjustment position points allow for a wide range of starting positions to accommodate any user. Two foot posts are covered in rubber to provide support and proper alignment during exercise., and the weight stack is located in front of the user for privacy, space efficiency, and ease of selection when determining weight stack.
Simple Instructions For Easy Use
Like the rest of the FUSE-XL line, the FUSE-0400 Inner/Outer Thigh includes a step-by-step exercise chart with easy-to-follow user instructions. A QR code on the machine also links to an online video for additional instruction visualization.
At the top of the weight stack is an integrated towel holder and accessory tray with a cup holder. This machine and the rest of the line are available in a standard silver or white powder coat finish with 12 standard and custom vinyl seat color options.
Also available is the FUSE-4000 Weight Assisted Chin-Dip. The multi-grip chin bar assembly offers a variety of options to accommodate a wide range of users such as multiple handle choices and pivoting dip bars. The foot platform also easily retracts for bodyweight exercises. The FUSE 4000 is coming soon, so be sure to keep an eye out for this great product!