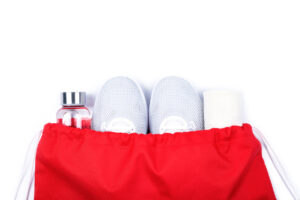 You have successfully installed a hotel gym with quality commercial fitness equipment. Are you still having trouble attracting guests to your facility? A complimentary fitness bag may be just the thing to ensure your customers are completely satisfied with your hotel's focus on fitness. Many hotels offer complimentary fitness bags to their guests when they check in. While it doesn't have to be overly fancy, a complimentary fitness bag is a good way to encourage guests to use your hotel gym. Guests can even use it to work out in the privacy of their own room if they're nervous about working out in public. Some basic items to put in the bag can include:
Offering a quality complimentary fitness bag to your guests will not only encourage them to stay fit, but view your brand in a positive light. They'll spread the word of your quality gym and offerings, encouraging other guests who wish to stay active to choose your brand over others.
Resistance Band
Resistance bands are compact, inexpensive and can be used in a wide variety of exercises. They are excellent for travelling as they are easy to store and use. Guests at all levels of fitness expertise will be able to use them effectively.
Workout Mat
Who wants to exercise on a bare floor? Adding a workout mat to the mix will let your guests exercise in comfort. Mats also have the added benefit of protecting the floors from sweat, keeping both the rooms and hotel gym clean. During floor exercises, mats are padded to help protect your guests':
Foam Roll
Also known as self-myofascial release, foam rolling is good way to self-massage to relieve muscle tension. For this particular piece of equipment, it is a good idea to include instructions to avoid misuse.
Fitness DVDs
There will be times when your guests will want to exercise in the privacy of their own rooms. For that occasion, fitness DVDs are a good way to get them moving and utilize their complimentary fitness bag. Fitness DVDs will also keep exercise routines fresh and fun.