Starting at a university is an exciting, yet anxious time for new students. They're away from their families and are probably doing things on their own for the first time. For older students who are trying out a gym for the first time, they want to feel large and in-charge—knowledgeable and confident in what they're doing. Here are some tips to help students feel confident when using your university recreation center for the first time:
Offer Facility Tours & Orientation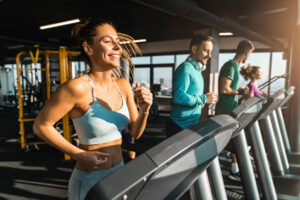 When students join your university, take them on a general tour of your recreation center and show them all it has to offer. If students decide to come back to your rec center, give them the option of taking an orientation class that introduces the use of each piece of equipment. Not only will they become acclimated to the gym, but it will give you the chance to provide them with a friendly and helpful experience.
Design a Sensible Equipment Floor Plan
As much as a tour can help potential members get to know your gym, it still needs to be laid out in a logical way. Students don't want to spend their time wandering around looking for a particular piece of equipment when they want to be exercising. Organize fitness equipment by placing similar pieces near each other. For instance, cardio in one half of the building, strength on the other, then further categorize based on type, i.e. treadmills, ellipticals, and free weights.
Publish & Explain Gym Etiquette
Students want to feel comfortable when joining your gym. To make sure they are not uncomfortable or confused about what is expected of them, create a list of rules and regulations everyone has to follow such as:
Wipe down equipment after each use
Ask permission to use a machine after someone is done with it
No cell phone usage in fitness areas
No photography of any kind
These rules will help ensure the safety and privacy of all members. Develop proper procedures to discipline offenders that are in line with your university's rules and regulations.
Hire Student Employees
When surrounded by peers of the same age and interests, we tend to feel more comfortable and welcome. The more comfortable your student members are, the more likely they are to approach an employee for assistance.
Extend Hours of Operation
Extending hours of operation will allow you to accommodate those with hectic class or work schedules, and allow members to avoid the rush and exercise with less of a crowd. With more options, those members who are uncomfortable exercising in a crowd will be more likely to come in and exercise.