A great way to attract and retain members is to ensure the fitness classes offered at your health club are engaging and motivating enough to keep members coming back. Making each class a personable experience while helping members achieve their fitness goals will leave members with a positive impression. One way to make a good impression is to improve how you open and close each class.
 Introduce Your Class with Icebreakers
At the beginning of each class, go around the room and have each person introduce themselves. Make sure that you repeat their names by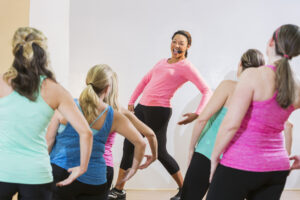 saying something like, "Nice to meet you Greg! Are you ready to have fun?" After you have gone around and learned everyone's names, turn on some up-beat music, choose a fun combination of warm-up exercises. You can turn warm-ups into an icebreaker by holding mini-games like "Have Your Ever?" Ask questions related to exercises like, "Have you ever done a rotation jump?" This icebreaker is a good way to learn what exercises members don't know and show them how it's properly done.
Encourage Members by Name Throughout the Class
During the class, be sure to walk around the room. Compliment and encourage members using their name will make their experience much more positive. Members will also feel like you personally care about them and will be more apt to come back to your fitness center for classes. Along with positive thoughts, make sure members are completing the exercises accurately to help them avoid injury, improve, and reach their fitness goals more quickly.
Congratulate Members After Each Class
At the end of each class, perform a cool down exercise. During this time, congratulate and "pump-up" the class so they feel good about the workout they just completed. Again, use their names to make for a more personable experience. At the end of each class, make sure that you give them a "teaser" of what's to come in the next class. For example, mention a new technique or piece of new equipment that they'll get to try next time.