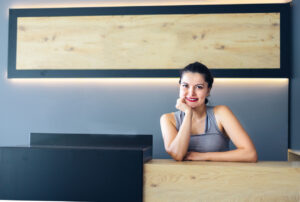 At TRUE Fitness, we understand the YMCA's legacy as a family-oriented community fitness center. Your gym strives to draw in new quality members and keep them from going to other commercial centers. Rather than scare new members with long lasting contracts, overcome the flashy competition by highlighting the Y's best features as much as possible. These features definitely include your:
Family-friendly atmosphere and activities
Up-to-date equipment
Involvement opportunities
Emphasize Kid-Friendliness
Being a parent makes it hard to just hit the gym whenever you have some free time. You have to schedule around the youngsters to make sure they are taken care of first. This crunched time frame is one of the best features of the YMCA: they include the kids. While the adults can hit the treadmill and get their cardio workout completed for the day, the kids head off to their own fitness classes.
Many fitness centers offer a playroom for the children, but your gym offers a much wider variety of fun activities for the kids than the average commercial gym. These programs are a huge bonus and should be emphasized as much as possible.
Keep Your Equipment Up-to-Date
If you want to compete with the best, you got to have the best! A simple way to keep members and even gain some new ones is to regularly update your commercial workout equipment. Carrying quality fitness equipment with the latest technology will put the YMCA in the same playing field as any other major fitness center competitor.
Offer Variety
Not only will keeping updated equipment in the fitness center be a great asset, but ensuring members plenty of equipment variety will keep them engaged at your gym longer. Each person is different and has unique needs when it comes to exercise. Providing bikes, treadmills, ellipticals, and other popular workout equipment will help make sure there is something at your fitness center for everyone to enjoy. Also, make sure you offer different console options on the equipment as well. While high-tech touch screens are becoming increasingly popular, some users prefer simpler technology. Mix it up to accommodate every user.
Connect New & Existing Members
Making a human connection is the most tried-and-true way to maintain gym members. When a new member joins your gym, make sure they have easy access to classes, social events, and volunteer opportunities. If the new members are part of a family, encourage the kids to join YMCA camps and sports teams. By building the Y community right off the bat, your new members will have more reason to stay once they've made real friends.