To stand out amongst competitors, you must give your guests the best experience possible by making sure each amenity you offer is top-notch. However, you don't have to spend an outrageous amount of money to provide the necessary services. One of the best resources you can utilize is your hotel staff. Assign additional gym-related tasks to members of your hotel staff to greatly improve your guest's gym experience.
Train Your Staff on How to Use Equipment
A great way to improve a guest's experience in your fitness facility is to train your hotel staff how to properly use the equipment you are providing. If guests have questions or concerns they can simply ask the nearest hotel staff member for assistance. Good training will reduce excess spending on a personal trainer or fitness center attendant.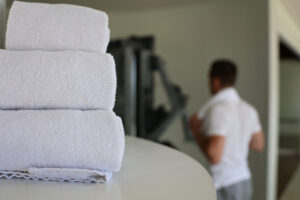 Assign Times to Clean the Gym
The cleanliness of your hotel gym should be a top priority if you want your guests to use and enjoy it. However, you do not need to hire additional staff to get the cleaning done properly. Simply have desk staff members check the facility once every hour for light clean up, such as picking up and replacing towels and wiping down equipment. Have another staff member come in at the end of the day for cleaning like mopping and sanitation.
Provide Security for Guests
When it comes to running a hotel gym, the security of your guests is very important. If there are no security measures, guests will not feel comfortable using your facility if anyone can come in and use it. Placing your gym in sight of the front desk as well as installing a key-card entry system will immensely help in the efforts to make your guests feel safe as they work out.