Want your students to learn more in class? Add humor. "What? No way!" you may be thinking. "We are disappointed enough when the students are distracted during class, but now we distract them ourselves?"
Adding humor to your classes might seem scattered, unconventional and even just plain crazy, but it actually helps students become more engaged in class and retain more information. Humor also has the added benefit of improving student health.
The Physical & Mental Benefits of Humor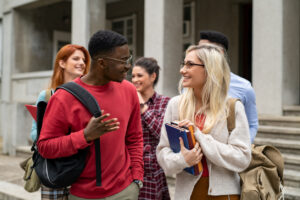 Utilizing humor in the classroom is a good way to help prioritize student health at your university. Humor helps relieve stress and can act as pain relief, among a host of physical and mental benefits like:
Releasing endorphins, the feel-good hormone
Boosting the immune system
When students are healthy, they will be more apt to succeed at college and be less likely to drop out. When combined with physical education and good nutrition, humor can help students pursue a healthy lifestyle.
Know Your Audience
Universities have already understood the need to adapt to technology. Students are more connected in the classroom now more than ever with tablets and laptops more than pencils and notebooks. It makes sense that the most relevant humor to relate to students can be found on the internet.
The internet is a great tool to find humor that will not only be relevant to your students, but relevant to today's society while doubling as a teaching tool. The key to adding humor as an educator is knowing who your target audience is – what do your current students find funny?
Types of Humor to Add
There are many ways your university can add humor to the curriculum. For example, a creative writing professor may want to open a class with a series of children's creative writing stories to make the class more comfortable with sharing their own stories. An improve class can also be added to the curriculum to let students let loose, learn cooperation, and help them feel comfortable in front of an audience. When topics are made up on the fly, students will have a blast trying to be funny.
Humor Do's and Don'ts
When using humor in the class room, follow these do's and don'ts to keep your students learning and laughing all through the semester:
Do:
Use humor to develop a sense of community: Humor can strengthen relationships, help diffuse conflict, and reduce depression by giving students a sense of belonging
Use content-related humor: When students tie the topic of learning to another reference point like a funny joke, the interaction between real life humor and learned material will leave a longer-lasting impression than lecturing alone.
Use age-appropriate humor: Using humor that a specific age group will understand will work better than humor that is "too old" for them. For example, a joke from when you were younger may no longer be relevant today.
Use humor in between instruction and repetition: Students relate humor to that particular topic of learning and are more likely to remember what they heard
Don't:
Use sarcasm, crude or inappropriate humor: This type of humor is in poor taste and can offend more than teach.
Force humor: Forcing humor makes it look like you are trying too hard which can get very awkward for everyone.
Use too much humor: Overdoing humor derails your lesson and students won't retain the information you're trying to teach them.