University-sponsored sports are great for students to participate in, but all students need physical games that they can organize and play themselves. Organizing their own games can teach them how to manage a large group of people, work as a team, and give them fun ways to get active.
Note: While student-run activities are a hallmark of any university, physical activities may need a stricter set of guidelines to ensure all participants are safe from severe injuries. For example, there is a time and a place for everything, so games cannot interfere with foot traffic or other university events.
Humans vs. Zombies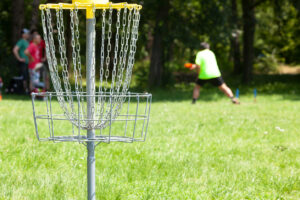 In this extreme version of tag, players dodge and run from each other to avoid being tagged (if they are "humans") or stunned (if they are zombies), which will keep students fit and improve their endurance all in the name of fun.
Humans vs. Zombies takes place over several days, as "Zombies must feed every 48 hours." For a game, players will need:
A bandana to distinguish between humans and zombies
A blaster (a sock, marshmallow shooter, or foam dart gun) so humans can stun zombies
Index cards for ID numbers to keep track of players
Since this game is designed for college campuses, players are required to keep their ID cards on them at all times and remain on campus. Certain buildings and areas like bathrooms and academic buildings are off-limits to the game for safety reasons.
Students can create a game online where players can:
Register to play
Report their tags to keep track of who has been turned into a zombie
Interact with the game moderators
Ultimate Frisbee
Ultimate Frisbee is a non-contact sport that is very popular on college campuses because it's easy to play and doesn't require a lot of equipment. There is a lot of running and agility done in the game like jumps and quick turns, which will help students increase their strength and cardio. Since there are no referees in the game, players are "morally bound" to play by the rules. Intentional infractions are not looked kindly upon, as it violates the spirit of good sportsmanship.
Assassins
Like Humans vs. Zombies, Assassins can take place over several days, requiring students to be vigilant—ready to dodge or jump out of the way at a moment's notice. Each player is an "assassin" and in each round, players are assigned a "target" that they must "assassinate." Assassins can use mock weapons like foam darts or clothespins to stick to a target's clothing to eliminate their target. If a player succeeds in assassinating their target, then they get assigned their target's target. The game continues as such until there is one player remaining.
Students can create a game by going online and setting up a game that people can be invited to. This online presence helps players keep track of who has been eliminated.