Choosing employees for your fitness center should not be taken lightly.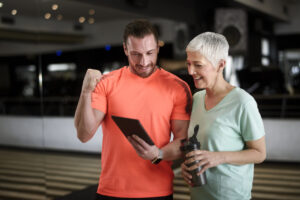 Staff should not only cater to members' needs in a respectful and professional manner, but keep them safe while they exercise. Here are a few qualities to look for to ensure you have a professional, proactive team.
Experienced
When hiring new employees, it is very important that they have experience in the work that they are doing. For instance, hiring an individual who works out and knows how to use the machines is much more valuable than hiring someone who can't tell the difference between two pieces of equipment. Inexperienced employees will do neither you nor members any favors.
Knowledgeable
Safety is of the utmost importance. Keep a knowledgeable staff employed at all times to answer questions and demonstrate how to use equipment if necessary. If the proper precautions aren't taken, the risk of injury to those using the fitness center is increased. Employees should be able to demonstrate and explain:
It also helps to train your employees in basic first aid and CPR. In fact, some states and countries require fitness employees to meet these qualifications.
Passionate
It is important that your staff love what they do. If they don't believe in working out and would rather spend their time somewhere else, it is highly likely they won't be inspiring your members to regularly exercise and improve. By having a staff that is passionate about fitness, your members feel inspired and encouraged.
Athletic
A certain level of athleticism should be required in your employees. If your employees aren't athletic themselves, customers will be able to tell and may not trust your gym's professionalism. Athletic employees show that they are passionate about what they do and strive to have your fitness center be a positive experience.
Interactive
A socially-inclined staff is a must. Employees must be willing to approach members to offer assistance and motivation without direction from a superior. They must also be able to answer any questions that members may have regarding a piece of equipment or technique.