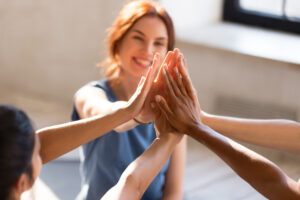 Running a successful community center does not have to be a difficult task, but there are a few things you should consider if you want your gym to be successful. Here are a few tips to ensure that your community center provides quality member service:
Provide Quality Equipment
A fitness center must be provided within your community center and must have commercial fitness equipment for customers to use. The TRUE Stretch and CS900 line of cardio equipment would make great additions to any gym and provide your members with the very best workout experience. In order to offer a complete gym for your members, you may want to incorporate a strength training area as well.
Recognize Member's Needs
Talk to your members, listen to what they say, and act accordingly. If your members can't make it to your gym because they have kids to take care of, meet that need. Offer your members included services like child care so they can use your facility guilt-free. By recognizing and addressing your member's needs, their overall satisfaction and chance of returning will be much higher.
Have a Variety of Equipment & Activities
Not everyone exercises the same way. While some prefer to use the fitness equipment, others may prefer to take part in a basketball game as their form of cardio for the day. By providing a variety of spaces and activities for your members, there will be something for everyone. Add an aquatic center to accommodate the swimmers and a gymnasium for those who would rather engage in sports than run on a treadmill.
Provide Ample Event Space
Offering plenty of event space is a great way to attract local residents to host events like birthday parties or wedding receptions at your community center. When the event guests come to your facility, they can see what you have to offer and try out activities that interest them. Once guests see the services you provide and establish an interest, they will consider coming back for a membership of their own.