Customer success stories have recently become an integral part of any business's marketing plan, especially within the fitness industry.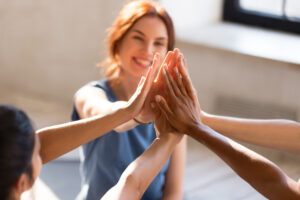 Success stories are a great resource for potential and current customers to refer to when contemplating signing up at your facility. By providing potential customers with proof that their fitness goals can be reached and current customer's motivation to stick with their fitness plans, it is an overall effective method for any gym.
Make Use of Persuasive Marketing
Persuasive marketing is marketing that uses human psychology to develop techniques for advertising products and services. When done correctly, persuasive marketing will make potential customers feel like your facility understands them and can help them achieve their goals. Connecting with customers in this way makes them more likely to stay loyal to your company over a competitor. A method of persuasive marketing is utilizing before and after pictures of customers who have reached their fitness goals using your facility. Providing potential customers with visual evidence rather than written statistics is much more likely to make an impact and resonate with them. Not only do images strike potential customers as more believable, but images are also quicker and easier to digest. A simple glance of a before-and-after image will tell a person more than an entire paragraph could.
Give Potential Customers Proof of Results
Before using your fitness center, potential customers want to be sure that exercise will work for them and that they will not be wasting their money. When they read a success story, potential customers want to see themselves in the before example. By reading through it and seeing these images, they can be reassured that your fitness center is the best way for them to achieve their fitness goals. Especially if they see themselves in the person in the before example and read their testimony.
Motivate Your Current Members
Motivating individuals to get excited about their fitness goals is the single most important thing you can do for your business. People will look at the before and after images of successful customers and find the necessary motivation to make these results happen for themselves as well. To keep existing customers motivated, post and share success stories on your social media on a regular basis.