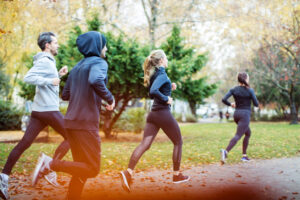 Fall is just around the corner and it's the perfect time of year to host outdoor fitness events. The weather is cool and crisp and people want to enjoy being outside before winter sets in. Community events are great for bringing people together and reinforcing pride in the local community, so it is best to start planning and announcing your fall fitness activities sooner rather than later.
Prepare Outdoor Obstacle Courses
Hosting a community obstacle course event is a fun way to get a large amount of people involved with your community center. To encourage participants, allow teams to sign up for a discounted price. Even though these courses can be physically demanding, the variety of obstacles and teamwork activities will entice even the toughest critics to come out and have fun.
Hold Community Games
Hosting community games like basketball or volleyball at your community center is a great way to not only bring awareness to the center, but encourage people to work together through sports. Since sports like basketball are generally played inside, hosting your own "season" during the colder months will encourage people to come in and not only participate, but cheer on their teams. If your community center has an outdoor court, hold games there, weather permitting. Offer prizes to teams for participating like discounted fitness classes or fitness bags. If your center has a website or a newsletter, include images of the participating teams and the winners. Acknowledging participants can motivate people to come back and participate in future events.
Host Marathons for Charity
Hosting a marathon for charity is a good way to encourage people to come out and support their local community and a worthy cause. Pick a cause or organization to support that your community can get behind, like Bike MS, and invite people to come out and exercise to show their support. The cooler fall months are ideal for hosting a marathon, as the summer months can present a risk of overheating and dehydration. Despite the cooler weather, staying hydrated is still important, so make sure to set up break areas with shade and water for runners. Doing so will keep them safe and charged up.