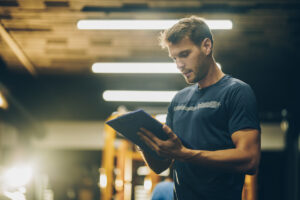 Before beginning to build a new fitness center, there are a few items that need to be taken into consideration. These items will help make sure the fitness center is safe for members and won't accidentally break any local laws.
Are You Building Within City Regulations?
Before you begin to build your fitness center, it is required by law to meet the local building regulations. Failure to comply could result in fines or removal of any work that doesn't comply. It's always best to know what these guidelines and regulations are beforehand to save the most time and money. Check with your local city government for building regulations, as they can vary from state to state. When budgeting, remember to take into account inspections and other fees that may apply.
Is the Layout Efficient?
When planning the layout of your new fitness center, you will want to make sure there is enough space for:
Current fitness equipment
Additional equipment installed in the future
Walkways for customers
Stretching
You want to make sure that customers have an adequate amount of space to move about your facility comfortably. No one wants to use a crowded fitness center that is hard to walk from one piece of equipment to the next. Leaving additional room for new equipment will also save you the hassle of having to rearrange the entire facility to accommodate the additions. In order to make the most of your stretching space, provide the TRUE Stretch for your users. The TRUE Stretch will provide a small, space-efficient area that is dedicated to stretching.
Are the Outlets the Appropriate Voltage?
Make sure you consider the number and location of power outlets for your fitness equipment. It is also very important to make sure you know what voltage your equipment requires as well to avoid wasting energy or possible damage to equipment. To make your space more versatile, make sure outlets are located all throughout the room so rearranging equipment won't be an issue. When placing outlets, don't forget to add outlets that are compatible with mobile devices. Members will appreciate outlets made available to them should they need to charge their cell phone or music player. Some members don't like the idea of exercising without listening to their personal playlist, so be sure they can keep their devices charged.